The parka coat.
The Parka coat was parta the school uniform. You had to buy one.
My old school had  a long run of classrooms, from 1 to about 30, the boys cloakroom at one end  and the girls at the other.
The boys cloakroom was, down a few steps opposite classroom number two.
The last lesson ended about 3.45pm, I was in classroom 30.
Everybody had a school uniform and the same kind of parka, in various sizes and conditions.
New Coat
Each year I said "I don't need a new coat."
I explained the situation.
Each year I received a new coat.
Every day, I began the sprint from classroom 30, to the cloak room opposite classroom 2.
There was usually only two or three coats left in the cloakroom at that time.
They never fitted.
Every day I was asked, when I came home from school  "Is that your coat?"
I explained the situation again.
Despite always having a new coat, I never had a new coat.
The Snorkel Parka
This is the school parka fully zipped up. The Snorkel Parka.
Great for keeping warm in winter,but the one thing you learnt at school.
You could never put your hood up.
You lost your peripheral vision.
Get Ready for the Snow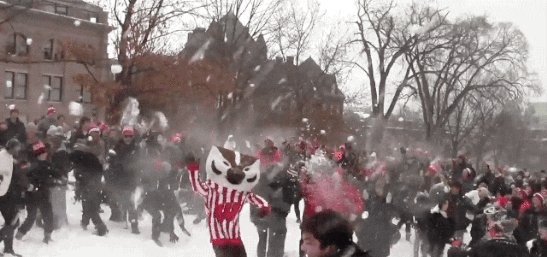 At times when there was snow,some poor babies would feel the cold and zip up their hoods.
Older kids would run up from behind  and thrust snowballs directly into their faces.
You could get several snowballs at once with a planned attack.
Then they would force their zipped up hoods closed, just to make sure they couldn't breathe.
Bundle you to the ground then use the enclosed hood to rub the trapped snow round the poor kids face.
Play Time.
This happened during 'play time.'
'Play time' is the time when most children ended up with PTSD.
As all children know, childhood is the best time to be a psychopath and psychopaths love  play time.
---
---
Tim Willows Additional Thoughts
I only remembered this as I was thinking of shoe anxiety based around religious service.
Childhood is the best time of your life, I've heard people say.
It may not be that childhood was good but that adulthood is so much worse than they imagined it would be.
All Pile on
Without any snow, what do you do?  Fight.
If two boys were fighting , the children would gather round them in a circle.
Often one would hit the ground first.
The game then became "All pile on"
All the other children then jumped on the kid on the ground.
Imagine 20 people the same weight or larger suddenly jumping on you.
Great fun. In some schools children died.
The best years of our lives.
---
---
What games did you play at school?