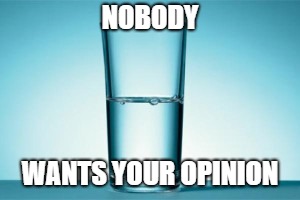 It is impossible to have a drink in a glass without an argument.
Without some fool making a comment.
I even had to draw the blinds,people were peering through the windows.
Trying to see how much was in it.
Telling me there's a reason why .
I just could not handle the scrutiny.
I told my reasons again and again.
1. I want to drink what is in the glass.
2. I don't want to spill anything.
It didn't stop.
I guess I was unlucky with my neighbors.
An optimist, a pessimist and an engineer.
That's why I bought a cup.
They can't handle the cup.
Not knowing the contents drove them mad.
I actually go round carrying my cup when there's nothing in it.
You're saying the cups full of air, right?
You're one of them.